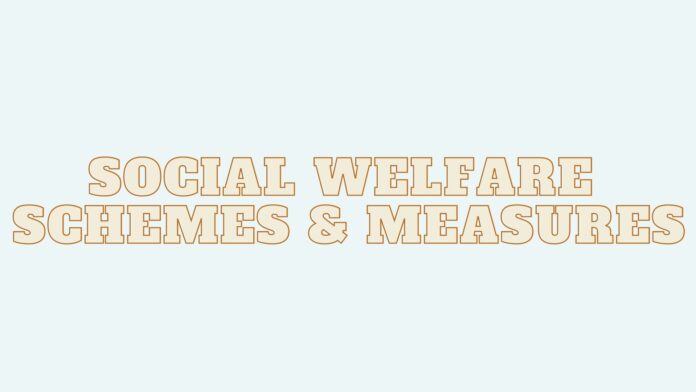 Social Welfare Schemes & Measures PSC Question and Answers
1.Pradhan Mantri Jeevan Jyoti Bima Yojana(PMJJBY) annual premium is :
a) Rs 380
b) Rs 480
c) Rs 330
d) Rs 430
Ans:-Rs 330
2.___ is Centrally sponsored scheme provide connectivity to unconnected habitations.
a) TRYSEM
b) PMGSY
c) SARAS
d) SGSY .
Ans:-PMGSY
3._____ was launched on 2nd October 1993 with the objective of empowering
the rural women through building thrift habit, self-reliance and confidence.
a) RLEGP
b) IAY
c) SGSY
d) MSY
Ans:-MSY
4.______ is a local language-enabled workflow based transaction level
Management Information System in place to facilitate e-governance of Indira Awaas Yojana.
a) Aya Soft
b) IYA Soft
c) Aaas Soft
d) Awaas Soft
Ans:-Awaas Soft
5.Which is the first scheme of its kind meant exclusively for slum dwellers with a Government of India subsidy of 50 percent.
a) RLEGP
b) DPADP
c) VAMBAY
d) NRHM
Ans:-VAMBAY
6.In Kerala which Programme is formally registered as the "State Poverty Eradication Mission" a society registered under the Travancore Kochi Literary Scientific and Charitable Society Act? Important GK India Kerala PSC Schemes
a) MGNREGA
b) BSY
c) Kudambasree
d) ICDS
Ans:-Kudumbasree
7.Expand the acronym RLEGP.
a) Regional Landless Employment Guarantee Programme
b) Rural Labour Employment Guarantee programme
c) Rural Landless Employment Guarantee Programme
d) Regional Labour Employment Guarantee Programme
Ans:-Rural Landless Employment Guarantee Programme
8.Which of the schemes was introduced in the golden jubilee year of independence and is operational since December 1 ,1997?
a) Swarna Jayanthi Gram Swarojgar Yojana
b) Sampoorna Grameen Rozgar Yojana
c) Swarna Jayanthi Shahari Rojgar Yojana
d) Samagra Awaas Yojana
Ans:-Swarna Jayanthi Shahari Rojgar Yojana
9.Name the Prime Minister who launched Bharat Nirman Yojana:
a) Narendra Modi
b) Dr. Manmohan Singh
c) A. B Vajpayee
d) Narasimha Rao
Ans:-Dr. Manmohan Singh.
10.Shishu, Kishore, Tarun comes under which Scheme?
a) PMJDY
b) PMMY
c) PMKVY
d) RJUMY
Ans:-PMMY.
11.'Pradhan Mantri Jan-Dhan Yojana' has been launched for :
a) providing housing loan to poor people at cheaper interest rates
b) promoting women's Self-Help Groups in backward areas
c) promoting financial inclusion in the country
d) providing financial help to the marginalized communities
Ans:-promoting financial inclusion in the country.
12.'Rajiv Gandhi Sharmik Kalyan Yojana' under the ESI scheme is for :
a) Unemployment allowance
b) Disablement benefit
c) Medical benefit
d) Maternity benefit
Ans:-Unemployment allowance.
13.What is the maximum age limit of girl child for opening Sukanya Samriddhi Account?
a) 5 years
b) 10 years
c) 12 years
d) 15 years
Ans:-10 years
14.Maximum age for joining Atal Pension Yojana is :
a) 40 years
b) 50 years
c) 60 years
d) 70 years
Ans:-40 years
15.The annual monetary limit of 'MPLADS' is:
a) 2 crore
b) 3 crore
c) 5 crore
d) 6 crore
Ans:-5 crore