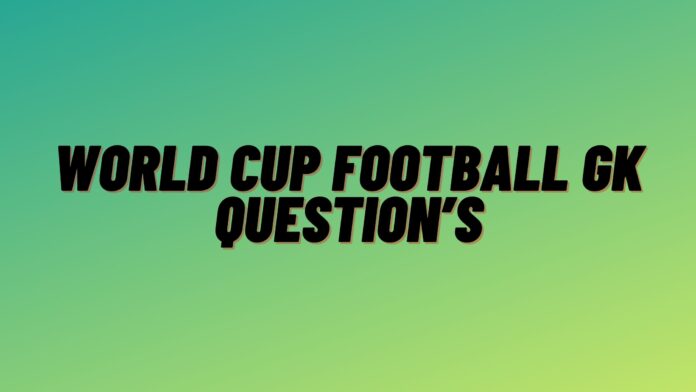 World Cup Football GK Question's
Which two countries shared the hosting of the 2002 FIFA World Cup?
Japan & South Korea
Which Swedish manager coached England at the tournament?
Sven-Göran Eriksson
True or false: this tournament was the first time the Finals had been held in Asia?
True
In a shock opening to the tournament, defending champions France were defeated by which African side?
Senegal
Germany kicked off the competition beating which Asian side 8-0 in their opening game?
Saudi Arabia
Who scored England's only goal from the penalty spot when they beat Argentina 1-0 in Sapporo?
David Beckham
Hosts South Korea caused upsets in the knockout stages, defeating which two European sides?
a) Italy & Spain b) Germany and France c) England and Belgium
a) Italy & Spain
Two goals from which Brazilian striker were enough to see Brazil lift the trophy for the fifth time?
Ronaldo
In which European country did the 2006 World Cup Finals take place?
Germany
Frenchman Zinedine Zidane caused controversy when he was sent off in the final. Which nation went on to lift the trophy?
Italy
England topped their Group with wins over Paraguay, Trinadad & Tobago and a 2-2 draw with which Scandanavian nation?
Sweden
In the Round of 16, Maxi Rodriguez scored one of the goals of the tournament when he controlled a cross field pass on his chest and volley past the Mexican goalkeeper. Which team was he playing for?
Argentina
England eventually bowed out in the Quarter-Finals, losing on penalties to Portugal in Gelsenkirchen. Who scored England's only successful penalty during the shoot out?
a) Frank Lampard b) Owen Hargreaves c) Jamie Carragher
b) Owen Hargreaves
The hosts Germany made it all the way to the semi finals before losing in extra-time to Italy. Which former Germany striker was in charge of his country?
Jurgen Klinsmann
In the final, Zidane had given France an early lead before which former Everton defender equalised?
Marco Materazzi
Which German striker finished the tournament as leading goalscorer?
Miroslav Klose
Which country hosted the 2010 Football World Cup?
South Africa
Which former Ma
nchester United striker finished the tournament with five goals for his country Uruguay?
Diego Forlan
England were named in Group C alongside Eygpt, Slovenia and which other nation?
United States
Only one African nation reached the Quarter Finals. Can you name them?
a) Ghana b) South Africa c) Morocco
a) Ghana
Which European team knocked England out of the tournament in the Second Round?
Germany
Which Barcelona midfielder scored an extra time goal to help Spain win the 2010 World Cup Final?
Andres Iniesta
As of February 2018, which Premier League club has had the most managers?
Newcastle United (22 managers)
There have been 108 individual English managers in the league. Which nation is in second place with 56?
Scotland
Which Englishman has managed the most Premier League matches?
Harry Redknapp
Which Spanish coach took charge of Everton between June 2013 and May 2016?
Roberto Martinez
Can you name the only Premier League manager in history to be born in Denmark?
Michael Laudrup (Swansea City)
Two different Argentinian coaches have taken charge of Southampton with the initially 'MP'. Can you name them?
Mauricio Pochettino & Mauricio Pellegrino
Nigel Adkins, Steve Coppell and Brian McDermott have all managed which club in the Premier League?
Reading
Which Englishman has managed Charlton Athletic, Crystal Palace and Hull City in the Premier League?
Iain Dowie
Brazil hosted the tournament in 2014. How many times had the country hosted the competition before?
a) Never b) Once c) Twice
b) Once
How many of the previous World Cup winners since 1930 qualified for the finals in 2014? A point for each:
Argentina, Brazil, England, France, Germany, Italy, Spain and Uruguay
What was the name of the Rio de Janiero stadium used to host the final?
Maracanã Stadium
Which of the following was the name of the football used by Adidas throughout the tournament?
a) Brazuca b) Bossa Nova c) Carnavalesca
a) Brazuca
Brazil kicked off the tournament with a 3-1 win over Croatia. Which attacking player scored twice for the hosts?
Neymar
The Netherlands surprised Spain with a 5-1 victory. A diving header from which Dutch striker was a highlight?
Robin van Persie
England began their campaign losing 2-1 to Italy. Who scored for the Three Lions?
Daniel Sturridge
England bowed out in the group stages having drawn 0-0 with which Central American country?
Costa Rica
Germany impressed throughout the tournament. Which central defender scored the only goal of the game as they beat France 1-0 in the Quarter Finals?
Max Hummels
Brazil hearts were broken when they were dismantled 7-1 by Germany in the Semi Finals. Which then Chelsea player scored Brazil's only goal in the final minutes?
Oscar
Which two Liverpool footballers topped the Premier League goalscoring charts with 31 and 21 goals respectively in the 2013-14 season?
Luis Suarez and Daniel Sturridge
Which Welsh manager won the Premier League Manager of the Season award in the same season?
a) Mark Hughes b) Chris Coleman c) Tony Pulis
c) Tony Pulis
Which Arsenal midfielder won the BBC Match of the Day Goal of the Season in both 2013-14 and 2014-15 for goals against Norwich City and West Bromwich Albion respectively?
a) Samir Nasri b) Jack Wilshire c) Aaron Ramsey
b) Jack Wilshire
Which Argentinian midfielder began his professional career with Rosario Central before spells with Benfica, Real Madrid and Manchester United led to a big money move to Paris Saint-Germain in 2015?
Angel Di Maria
Bloomfield Road is a stadium most commonly associated with which England Football League club?
Blackpool
Which of the following is NOT one of David Beckham's middle names?
a) Robert b) Joseph c) Christopher
c) Christopher
Which German midfielder scored Brighton & Hove Albion's first goal in of the Premier League era in their 3-1 home win over West Brom in 2017?
Pascal Gross
With which club did Diego Maradona last play for a European team?
a) Barcelona b) Sevilla c) Napoli
b) Sevilla
A Man Advised (clue: Arsenal)
David Seaman
Dragon Knobs (clue: Stoke City)
Gordon Banks
Lame Recency (clue: Liverpool)
Ray Clemence
Hear Jot (clue: Manchester City)
Joe Hart
Replenish Tot (clue: Nottingham Forest)
Peter Shilton
Burlaps Onion (clue: Tottenham Hotspur)
Paul Robinson
Orchid Sows (clue: Sheffield Wednesday)
Chris Woods
Renting Sport (clue: Sheffield Wednesday)
Ron Springett
Manchester United finished the year with a last gasp equalising goal at home to Blackburn Rovers at Old Trafford. Which Scottish striker signed from Coventry City had given Blackburn the lead?
Kevin Gallacher
1994 got underway with Manchester United and Liverpool sharing a 3-3 draw at Anfield. Liverpool's equalising goal was scored by an English centre half signed from Tottenham Hotspur. What was his name?
Neil Ruddock
Graeme Souness left Anfield shortly after the game and he was replaced by one of the last coaches to move up from Liverpool's famous Boot Room. Who was it?
Roy Evans
Swindon Town struggled to keep their head above the relegation zone all season despite a 3-1 home win against Coventry City in February 1994. Which Norwegian striker scored a hat trick that day?
Jan Aage Fjortoft
Chelsea beat Manchester United at Old Trafford in March 1994 with the only goal of the game coming from an Englishman who's career to taken him from QPR to Gillingham, Bournemouth and Newcastle United. Today he is a Christian minister. Who was it?
Gavin Peacock
With Blackburn breathing down their necks the pressure was starting to get to Manchester United in March 1994 and Eric Cantona was sent off for a stamp on which Swindon Town midfielder?
A) Paul Bodin b) John Moncur c) Gary Speed
B) John Moncur
In April 1994 on Easter Saturday a match billed as a 'Title Decider' took place at Ewood Park between Blackburn and Manchester United. Who opened the scoring for the home side with a header?
a) Alan Shearer b) Tim Sherwood c) Mike Newell
a) Alan Shearer
Three points in the Manchester Derby in late April tipped the balance back in United's favour. Who scored both goals in a 2-0 win over Manchester City?
a) Paul Ince b) Ryan Giggs c) Eric Cantona
c) Eric Cantona
Blackburn Rovers suffered a 2-0 defeat on the road in May 1994 thanks to two goals scored by midfielder Julian Darby. Who was Darby playing for?
a) Coventry City b) Sheffield Wednesday c) Swindon Town
a) Coventry City
Which team did Everton beat 3-2 in dramatic seals to ensure they survived for another season of Premier League football in May 1994?
Wimbledon
England goalkeeper Tim Flowers signed for Blackburn Rovers in the autumn. Which club did Flowers leave to head to Ewood Park?
Southampton
Keith Scott's goal at home against Queens Park Rangers gave which club their first victory of the season in November 1993?
Swindon Town
Tottenham Hotspur's Gary Mabbutt received severe facial injuries in a clash with which Wimbledon striker?
a) John Fashanu b) Andy Clarke c) Efan Ekoku
a) John Fashanu
Which Irish striker powered in two trademark headers at Maine Road in November 1993 as City met United in the first Manchester derby for the season?
Niall Quinn
Eric Cantona also scored twice in that game to bring the score back to 2-2 and the game's winning goal soon followed for Manchester United and it was also scored by an Irishman. Name him?
Roy Keane
Andy Cole was in the goals for Newcastle United scoring a hat trick at home to Liverpool but with which London club did he start his professional career?
Arsenal
Which veteran England striker, who made 13 appearances for his country, scored Arsenal's second goal as they beat Newcastle United at Highbury?
a) Alan Smith b) Kevin Campbell c) Ian Wright
a) Alan Smith
Who resigned as Everton manager in December 1993, stating that he could do no more with the resources available. His next management role would be with Greek side Xanthi.
Howard Kendall
Chelsea lost at Ewood Park in December 1993 and one of Rovers' goals was scored by the man many were calling the best young left back in the country. He'd arrived at Blackburn from Chelsea years earlier. What was his name?
Graeme Le Saux
Glenn Hoddle looked to strengthen his Stamford Bridge squad by signing which Stoke City striker who had scored plenty of goals in the lower leagues? He would go on to scored 25 goals in 63 games for Chelsea, before joining Bournemouth.
Mark Stein