National Symbols of India
National symbols of India depict the country's image and have been chosen very carefully. The national animal, tiger symbolises power; the national flower, lotus symbolises purity;the national tree, banyan symbolises immortality, the national bird, peacock symbolises elegance and the national fruit, mango symbolises the tropical climate of India. Similarly, our national song and national anthem were a source of inspiration during the freedom struggle. The national emblem of India depicts four lions standing back to back, symbolising power, courage, pride and confidence. Hockey was at its peak when it was adopted as the national game of India. Here is some more information about the national symbols of India:
National Insignia Of India
Lion Capital is the National Emblem.
Tricolour flag is the National flag.
Saka Era is the National Calendar.
Jana Gana Mana is the National Anthem.
Vande Mataram is the National Song.
Royal Bengal Tiger is the National Animal.
Elephant is the heritage Animal .
Peacock is the national bird.
Lotus is the national flower.
Peepal Tree (Banyan )is the national tree.
Mango is the national fruit.
Hockey is the national game.
King Mackerel is the national fish.
Ganga Dolphin is the national aquatic animal.
Ganga is the National river.
Masala Dosa is the national food.
King Cobra (Ophiophagus hannah)is the national reptile.
Satyamev Jayate is the national slogan.
National flag ( Tricolour flag) Of India
Photo Courtesy: Wikipedia
The Indian flag was designed by pingali Venkayya.
The national flag is a horizontal tri – colour in equal proportion of deep saffron on the top , white in the middle and dark green at the bottom.
Saffron representing courage and sacrifice.
White representing courage and sacrifice.
Green representing faith and chivalry.
The ratio of the width to the length of the flag is two is two is to three.
In the centre of the white band ,there is a wheel in Navy blue , to indicate the Dharma Chakra .
Which appears on the abacus of the Saranath Lion Capital of Asoka.It has 24 Spokes.
The Indian flag was designed as symbol of Freedom.
Jawaharlal Nehru called it a flag not only of freedom for ourselves , but a symbol of freedom to all people.
National Anthem – Jana Gana Mana Of India
              Photo Courtesy: Wikipedia
National Anthem Composed by Rabindranath Tagore.
The Song Jana Gana Mana was First sung on December – 27 , 1911 at the Calcutta Session of INC.
On January 24 ,1950 , The Constitutional Assembly adopted the song as the National Anthem of India .
The Complete song consists of five stanzas .The first stanza comprises the full version of the national anthem .
The English translation of Jana Gana Mana is morning song of the India . Translated by Tagore .
The National Anthem is approximately 52 Seconds.
It Composed on the raga Sankarabharanam.
Music given by capital Ramsingh Thakur
                          Also Read: Indian Father's: Important for Kerala PSC Exam                     
National song -Vande Mataram Of India
National song composed by Bankim Chandra Chatterji.
Vande Mataram appears in the Bengali novel Anand math.
the first political location when it sung was the 1896 Kolkata Session of INC.
Arabinda Ghosh translated Vande Mataram In to English.
National Game – (Hockey) Of India
Hockey is the national game of India ( there is no Reference in official records).
Coorg ( Karnataka) is known as the cradle of Indian Hockey.
The Golden Era of Indian hockey was the period from 1928 – 1956 . when India won 6 Consecutive Gold medals in the Olympics.
Dhyan Chand is known as the hockey wizard.
India won the first olympics hockey gold in 1928 arts Amsterdam.
National Bird – (Peacock) Of India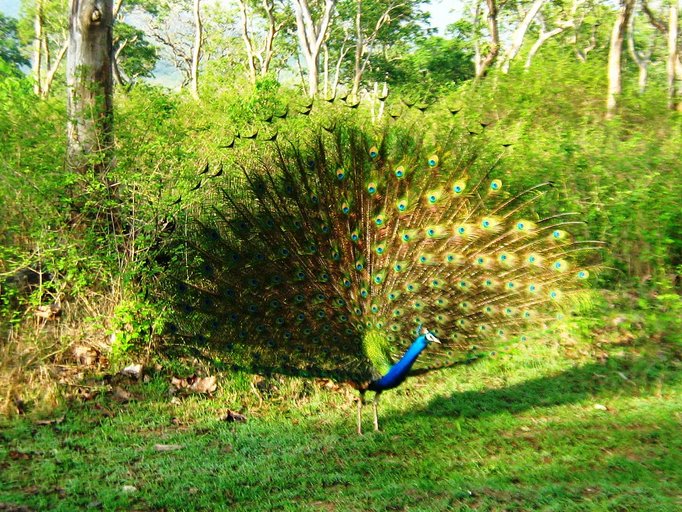 Photo Courtesy: Wikipedia
The Indian peacock ( Pavo Cristatus) is the national bird of India.
National Fruit – (Mango) Of India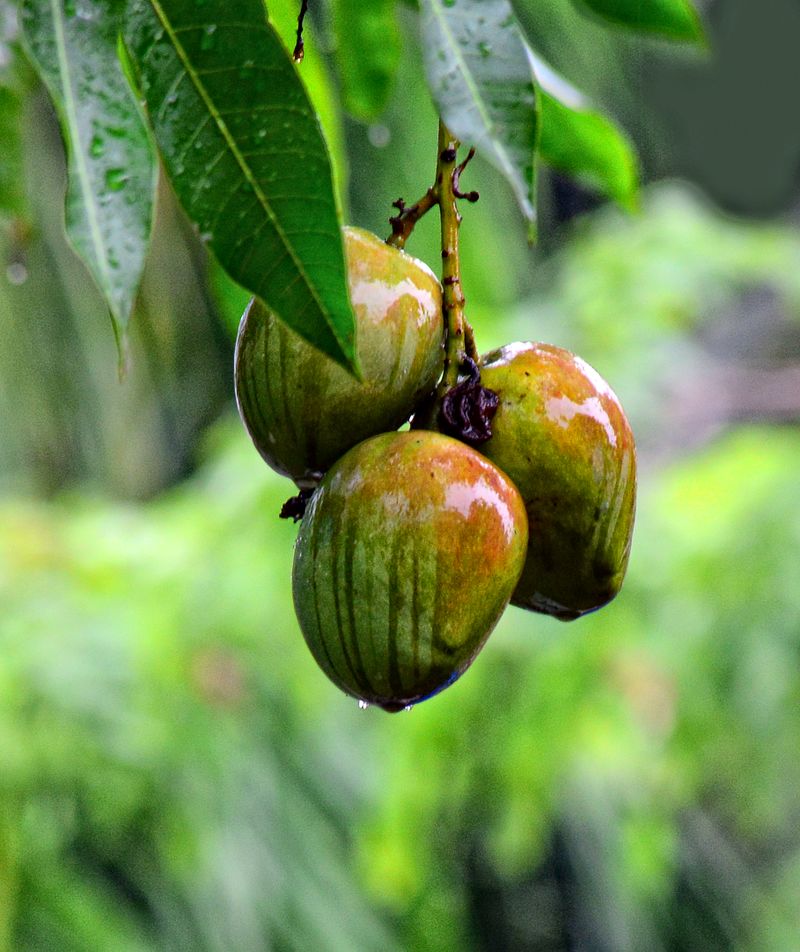 Mango( Mangifera Indica) is the National fruit of India, Philippines and Pakistan.
Mango considered as the king of fruits.
India is the home land of mango.
mango is the known as the king of fruits.
National Animal – (Tiger) Of India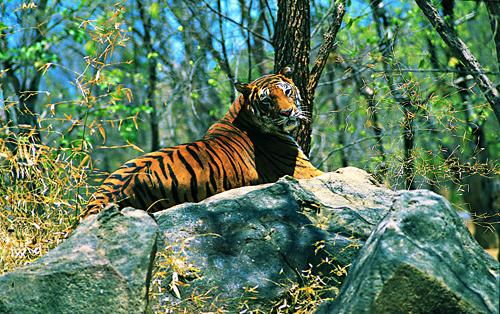 Photo Courtesy: Wikipedia
The Bengal Tiger( Panthera Tigris) is national animal of India and Bangladesh.
Since 2010, it has been classified as an endangered species by IUCN.
In 1973, project Tiger was launched , aiming at ensuring a viable population of tigers ,In the country.
So far 53 tiger reserves have been established in the country under the tiger project.
In 1972, tiger is declared as the national animal of India.
                      Also Read: First In India : Asked in Various Exam                                        
National flower – (lotus) Of India
  Photo Courtesy: Wikipedia
Lotus is the national flower of India
Nelumbo nucifera is the binomial name of lotus.
National Tree – (Banyan Tree) Of India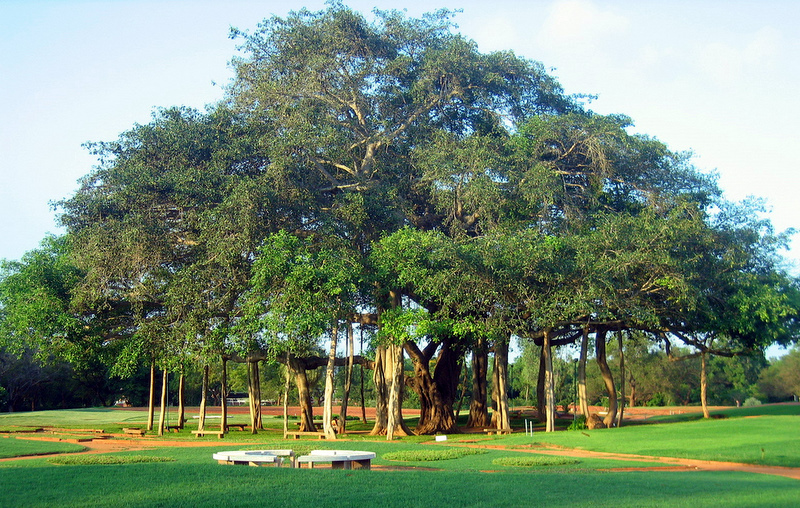 Photo Courtesy: Wikipedia
Banyan tree (ficus benghalensis)is the national tree of India.
This tree is considered sacred in India.
The great Banyan in the Indian botanic garden, horus is considered to be one of the largest trees in the world in terms of area covered .
National Calendar – (Saka Era) of India
The saka calendar in the national calendar of India .
In A.D. 78 Kanishka establish this calendar.
The Saka year has the normal 365 days.
Chithram is the first month and phalguna is the last month of Saka Era.
In March 22, 1957 this calendar adopted as the National calendar of India.
The month of the national calendar, with their days and the dates of Gregorian Calendar corresponding to the first day of the saka month are given below:
| | | |
| --- | --- | --- |
| Month | Length | start date |
| 1. Chitra | 30/  31 | March 22 |
| 2. Vaishaka | 31 |  April 21 |
| 3.Jyeshtha | 31 | may 22 |
| 4. Ashadha |  31 | June 22 |
| 5. Shravana | 31 | July 23 |
| 6. Bhadrapada | 31 | August 23 |
| 7. Ashwina | 30 | September 23 |
| 8.  Kartika | 30 | October 25 |
| 9. margashirsha | 30 | November 22 |
| 10. Pausha | 30 | December 22 |
| 11. Magha | 30 | January 21 |
| 12.phalguna | 30 | February   20 |
                         Also Read: India after Independence: Important for Kerala PSC                 
National Emblem – (Lion Capital) Of India
                                                      Photo Courtesy: Wikipedia
Lion Capital is the national emblem of India.
It is adopted from Sarnath stupa of Asoka,Maurya ,Emperor .
National Emblem was adopted on 26th January 1950.
Motto engraved on the Emblem is Satyameva Jayate.
At the bottom of the Emblem ,there is a wheel known as Ashok Chakra
Ashok Chakra hairs 24 speakers it also placed in the middle of our national flag.
The are four lions standing back to back in upper part ,and one in lower part.
Each lion symbolizing power courage pride and confidence.
Power part of emblem consists of four animals horse ,Elephant, bull and the lion.
National Parks Of India
A national park is a relatively large reserved area which protects the entire ecosystem. that not being altered by human exploitation and occupation. plant and animal species,Geomorphological sites and habitats for special scientific education and recreation preservative in national parks.
its boundaries fixed by legislation.
first national park in India – Jim Corbett National Park( 1936)
Haily and Ramganga Ware the former names of this park .
Project Tiger was launched in Jim Corbett National Park.
Gyan Bharati (Rann of kutch) in Gujarat is the largest biosphere reserve in India.
Sunderbans Tiger reserve secured Most number of tigers( 256) as per the official records.
Nagarjuna Sagar Tiger Reserve Is the largest Tiger Reserve in India.
Hemis National Park( Jammu – Kashmir) Is the largest National Park in India.
Statistics Of India
Elephant reserves – 25
Tiger reserves – 53
Wild Life sanctuaries -441
National Parks – 98
Biosphere reserves -19
Zoos in India – 20
Marine National parks -4
Can you differentiate?
National parks and sanctuaries:
National park is a reserved area meant for preserving Its natural vegetation.Natural beauty and its wildlife.
Sanctuary is a reserved area Meant for The preservation and development of endangered species.
Oldest National Park in India
Jim Corbett National Park in Uttarakhand is the oldest National Park in India. it was established in 1936 star Hailey National Park.
It was again renamed as the Jim Corbett National Park in 1957 in owner of the Jim Corbett.
National Parks in India
Andaman and Nicobar Islands
Mahatma Gandhi Marine, Middle Button Island Campbell Bay, North Button Island. Rani jhansi marine, Galathea ,Saddle peak South Button Island .
Goa
Mahavir wildlife sanctuary and Mollem National Park. Salim Ali Bird sanctuary,Bondla
Gujarat
Bansada , Gir, Gulf of Kachchh ,Black buck,
Haryana
Sultanpur
Andhra Pradesh
Sri Venkateswara ,Mahavir harina, Vanasthali ,Kasu Brahmananda Reddy, Mrugavani
Arunachal Pradesh
mouling ,Namdapha,
Assam
Dibru- Saikhowa , Kaziranga ,manas,Nameri,Orang
Bihar
Valmiki
Chhattisgarh
Indravati,Kanger Ghati ,Sanjay
Himachal Pradesh
great Himalayas, pin Valley
Jammu & Kashmir
City Forest( Salim Ali) dachigam, hemis, Kishtwar
Jharkhand
Betla
Karnataka
anshi, Bandipur, Bannerghatta, Kudremukh, nagarhole
Kerala
eravikulam, anamudi shola, Silent Valley, mathikettan shola,pampadam shola,
Madhya Pradesh
Bandhavgarh,Fossil,Kanha,Madhav, Panna,Pench,(Priyadarshini),Sanjay, Satpura, Van Vihar
Manipur
Keibul Lamjao ,Siroy
Maharashtra
gugamal, Newegaon, Sanjay Gandhi, Tadoba
Meghalaya
balpakram, nokrek Bridge,
Mizoram
Murlen,Phawngpui Blue,Mountain
Nagaland
Intanki
Orissa
Bhitarkanika,Simlipal
Rajasthan
Desert, Keoladeo Ghana,Ranthambore, Sariska
Sikkim
Kanchenjunga
Tamil Nadu
Guindy, Gulf of Mannar Marine, Indira Gandhi( Annamalai) Mudumalai, mukurthi
Uttarakhand
Corbett ,Gangotri, Govind, Nanda Devi, Rajaji, valley of flowers
Uttar Pradesh
Dudhwa
West Bengal
Buxa, Gorumara, Singhillia ,Sundarbans.
National Income of India
National income measures the net value of goods and services produced in a country during the year and also includes net earned foreign income .
National Income is a flow concept.
Disposable Income= personal income- direct tax.
According to Simon kuznets national income can be calculated by product method, income method, Consumption Method .
In 1868 the first attempt to estimate national income was made Was Dadabhai Naoroji .
He estimated per capita income as RS 20
National income includes the contribution of 3 sectors of the economy primary sector( Agriculture, Forestry, fisheries, Mining )secondary sector( Industries manufacturing and construction) and the tertiary software( Trade, Transport communication banking insurance etc)
CSO adopted the new base year 2004-05
Highest sectoral contribution to GDP- service sector 64.4%( during 2011-12)
Indian National Waterways
National waterways 1 connect Allahabad to Haldia With 1620 km through Ganges and Hugli river
Nw2 connects Sadiya to Dhubri in Assam with 851 km through Brahmaputra.
Nw3 contacts Kollam to Kottapuram Kerala) with 205 km thorough Ashtamudi vembanad and kodungalloor Kayal.
Nw4 links Tungabhadra and Krishna river in Karnataka.
Nw5 links Godavari and Krishna
India has a boat 14 ,500 km of navigable waterways
Indian National Army
Rash Behari Bose organised a conference in Tokyo on March 1942.
Another conference in Bangkok on June 1942.
Out of these conference was born the Indian Independence League and a decisions to from an Indian National Army for the Liberation of India.
The idea of Indian Army was first conceived in malaya in 1942 by Mohan Singh Bakhna , an Indian officer in British army .
The Indian prisoners of War were handed over by the Japanese to Mohan Singh who recited them in Indian National Army.
Taken over and organised by Subhash Chandra Bose in 1943 in Singapore .
He set up headquarters at Singapore and Rangoon.
Attack through the mountainous areas of Brahma on February 4, 1944.
Andaman and Nicobar were given to S.C. bose and renamed Shaheed and Swaraj Islands respectively.
Defects of Japan shattering all hopes of Indian National Army and its failure of its attempt to launch a military attack on British India.
Trial of Indian National soldiers were held at Red Fort in August 1945.
Some prominent INA officers put on trial were Gen. Shah Nawaz, Gurdial Singh Dhillon,Prem Sehgal etc.
Congress declared its support to INS Soldiers at Bombay session in September 1945.
Defence of the INS soldiers taken up by Bhulabhai Desai, Tej Bahadur Sapru ,K.N Katju J.L Nehru and Asaf Ali.
The British government felt it expedient to set INA soldiers free.
Here We have Discussed all about National Symbols of India, If you want to add some point in this Article, Feel Free to comment Bellow.
National River of India
The Ganges or Ganga is the national river of India. According to the Hindus, this is the most sacred river on the earth. In fact, they perform many rituals on the bank of this river. The Indian cities which are famous for this river are Varanasi, Allahabad and Haridwar. Ganga flows over 2510 km of mountains, plains and valleys, and is the longest river in the country.
National Heritage Animal of India
The national heritage animals of India is Elephant. The Indian elephant is a subspecies of the Asian elephant and found in the mainland Asia. It is listed as one of the endangered animals by IUCN. It can be spotted at four different regions in the country.
National Aquatic Animal of India
The national aquatic animal of India is River Dolphin, which is also called as the Ganges river dolphin. The mammal once used to live in the Ganges, Brahmaputra and Meghna, Kamaphuli and Sangu rivers of India, Bangladesh and Nepal. However, the species is no more found in its early distribution ranges. The river dolphin is essentially blind and lives only in freshwater.
National Reptile of India
With its length up to 18.5 to 18.8 ft (5.6 to 5.7 m), King Cobra is the national reptile of India. This venomous snake is found in forests in India through Southeast Asia. It preys on other snakes, lizards and rodents. It has its cultural significance as Hindus worship this reptile.