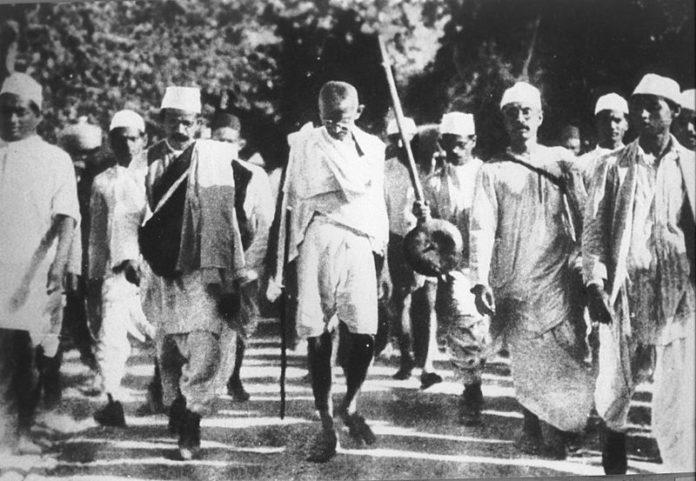 Mahatma Gandhi
Gandhi was born on 2nd October -1869  at Porbandar –  Gujarat.

it belongs to Bombay Presidency of British India.

he was born in Kirti Mandir –  his ancestral home.

 Gandhiji's  father Karam Chand Gandhi was  Diwan of Porbandar.

Gandhiji's mother Putlibai was  fourth wife of Karam Chand Gandhi.

On May 1883 ,The 13  years old Mohandas was married to 14-year-old  Kasturbai Makanji .

Gandhi had four children.

Harilal born  in 1888  was the  eldest son.

' Gandhi's Lost Jewel:Harilal Gandhi' – is a  biography of Harilal Gandhi written by  Nilam  Parikh.

Gandhi –  My  father is a  film directed  by  Feroz Abbas Khan.

It  portays the  troubled relationship between Gandhi and Harilal.

 Harilal was potra yed by Akshay Khanna.

Darshan Jariwala  acted as  Gandhi in  this film.

Manilal was  second  son of Gandhi.

' Gandhi prisoner – the life of Gandhi son  Manilal' – is a biography of Mandal written by Uma D Mesthries.

Ramadas was  third son of Gandhi.

It was  Ramdas Gandhi lit   the fire to start the  cremation off Gandhi.

Devadas Gandhi was the youngest and   the fourth son of Gandhi.

Devadas married to  Lakshmi, the daughter of C. Rajagopalachari.

Raj Mohan Gandhi was son of Devdas Gandhi.

' Mohandas, a true story of a man, his people and Empire'  is written by Rajmohan Gandhi.

Gopalkrishna Gandhi, Former governor of west  Bengal was the  Second Son of Devadas Gandhi.

Gandhi went to England for legal studies in 1888  by  that time Gandhi was 19  years old.
Buy Now: WIN Kerala PSC Exam Book for your Kerala PSC Examination preparation.
Gandhi studied law at University College, London.

Gandhiji returned  to India in 1891.

In 1893 , Gandhiji accepted a year-long contract from Dada Abdullah and co , Indian firm, to post in the colony of Netal – South Africa.

the issue on which  his South African  struggle began was the proposed bill of the   Netal  government to differenchise Indian's at Netal.

Netal Indian Congress was Formed in 1894 .

Gandhiji started weekly.' Indian opinion' at  South Africa in1903.

Gandhiji established Phoenix Ashram in Durban in 1904.  it is the first  ashram started by Gandhi.

Jain  Scholar  influenced  Gandhi was Raj Chandra Ravjibhat Shatardhani.

In 1906  September 11   Gandhiji takes oath  of  passive  resistance  against newly promugated Transvaal Asiatic  law amendment ordinance Johannesburg.

Gandhiji formed  passive resistance Association in1907  to  boycott permit offices associated with registration issue.

Gandhi started  Tolstory farm at  transval  with the  help of his German  friend Kallenbach at transval In 1913 .

Gandhiji was  thrown  of a train in South AfricaPiete rmartizburg  after  refusing to move from the First class.

Gandhiji reached India on January 9 ,1915.

In 1915  Gandhiji founds  Satyagraha Ashram  at kocharab , Ahmedabad.

Rajkumar shukla  invited Gandhiji into  Champaran  district of  Bihar.

Gandhiji along with Brij Kishore  Prasad and  Rajendra Prasad arrived  in  Champaran on April 15 ,1917 .

Gandhi made first hunger strike as a part of Ahmedabad  Mill  strike.

Anti – Rowlet Act agitation Was the first all-India political movement Made by Gandhi .

In 1920 Gandhiji launched non -co -operation Movement.

In 1922  February 5  Chauri chaura  tragedy, Gandhiji abandons non-cooperative  movement.

Gandhi was arrested on march 10,1922 and sentenced to six years imprisonment.

On 31 December 1929, the flag of India was unfurled in  Lahore.

26 January1930 was celebrated as India's Independence Day why Congress meeting at Lahore.
To Buy PSC – Graduate Level Previous year Question paper and Answers Exam Book Click Here!
Gandhiji started Salt Satyagraha on 12 March 1930 by Starting from  Sabarmati.

 March reached Dhandi beach on April 6 – 1930.

78 Congress volunt eers participated Dhandi march and they covered 388 K.M.

Gadhiji sighned Gandhi – Irwin pact in March 1931.

On 1931 Gandhiji participated second round table conference.

Poona Pact was signed with Ambedkar on 1932.It withdraw the communal award presented by Ramsay Macdonald.

On 1932 December  Gandhiji formed Harijan Sevaksangh.

On 8th May 1933 ,Gandhi began a 21 day fast of self-purification and launched a one-year campaign to help

Harijan movement.

In 1934 Gandhiji resigned from Congress party membership.

On 1936 Gandhiji settled Sevagram Ashram of Wardha Maharashtra.

On 1937 Gandhiji introduced new educational policy called Wardha educational scheme.

Quit India resolution was passed in Bombay on August 8 ,1942 and Gandhiji raised the slogan Quit India.

Gandhiji shot dead at Birla house by Nathuram Godse .It was by using Italian Benita Pistol.

Six persons accused in Gandhi murder case were Shankar Kistaiya , Gopal Godse , Madanlal Pashwa, Digambar Badge , Nathuram Godse and Vishnu Karkare.

Nathuram Godse and Narayan Apte were sentenced to death and hanged Gopal Godse was sentenced  to life imprisonment.

Godse and Apte were hanged at Ambala prison ,Haryana.

1944   February 22  Kasturba Gandhi dies in Aga Khan's palace.

In 1947 January12 Decides  to fast against communal violence in Delhi.

Gandhiji suggested that Congress should be transformed into Lok Sevak Sangh.
Also read  : India after Independence
Books about Gandhi
Mahatma Gandhi    – Romain Rolland
A week with Gandhi   – Luis Fisher
The life of Mahatma Gandhi   – Louis Fisher.
Gandhi and Stalin  – Luis Fischer
At the feet of Gandhi  – Rajendra Prasad.
In search of Gandhi  – Richard Attenborough.
Waiting for the Mahatma  – R.K Narayanan.
Gandhi a life revised    – Krishna Kripalani.
Gandhi and Anarchy in India  – C.Shankaran Nair.

Man who killed Gandhi  –

Manohar Mangokar.
The life of Mohan Das Karam Chand Gandhi  – D.J.Tendulkar.
Also read : Mahatma Gandhi Quotes
Gandhis
Dr . Rajendra Prasad is known as Bihar Gandhi.
Khan Abdul khafar is known as 'frontier Gandhi.
K.Kelappan is known as 'Kerala Gandhi'.
I.K.Kumaran master is known as 'Mahi Gandhi'.
Martin Luther King is known as 'American Gandhi'.
Ibrahim Rugeva is known as Balkan Gandhi/Kosovo Gandhi.
Kenneth Kaunda is known as African Gandhi .
Nelson Mandela is known as South Africa Gandhi.
Kwame Nkruma is known as Kenyan Gandhi .
General Aungsan is Known as Burmese Gandhi.
Ahmed Sukarno is known as Indonesian Gandhi.
A.T Ariyaratne is known as SriLankan Gandhi.
C.K.krishnan Nair is known as Delhi Gandhi.
Image courtesy : Wikipedia
keralapsctips.com is a participant in the Amazon Services LLC Associates Program, and we get a commission on purchases made through our links.